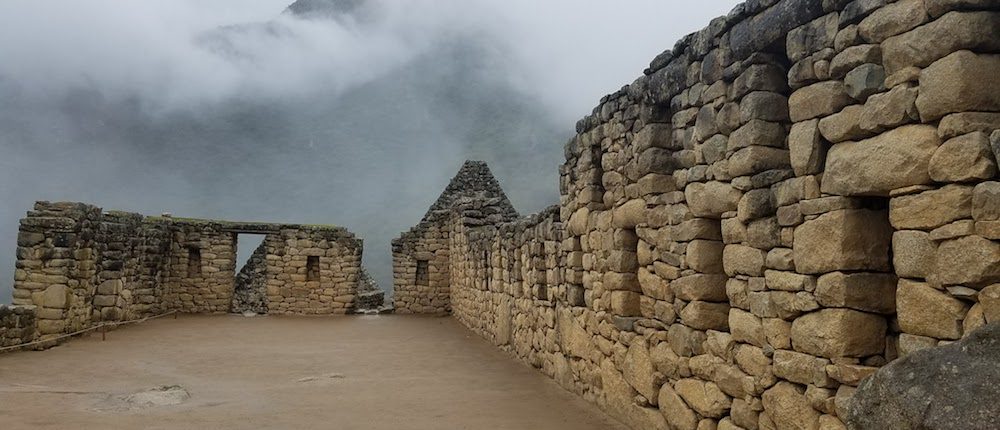 I found myself waiting in the baggage section for a woman I'd never met before. She sat next to me on the plane. I'd decided to sleep since I arrived at the airport that morning at 5 am, but fate and I were not on the same frequency. Through my broken Spanish, we struck up a conversation and I came to learn she was an artist with two paintings on display in Cusco. An artist, I could live with that.
We ended up talking about hostel prices, as I still needed to secure my lodging for the night, and she told me about a hostel she had stayed in last year. How could I get so lucky? When we arrived in Cusco, I helped her drag her three bags onto a luggage cart as she called her friend who lived in the city. The florescent lights inside dreary, and stepping outside felt like coming out of a dark theater. I had the realization that after she left my side, I would be the only person I have. My Spanish would HAVE to be enough. My street awareness would HAVE to be enough.
I recited the words of my friend from Lima in my head: "no more than 8 sols for a cab." In my travels, I always had either Uber or Luisa to help negotiate.
The very first cab offer to take us to the Plaza de Armas for 36 sols. Walking from the airport door is a lot like swatting flies. The cab drivers swarm you, throwing prices at you and using aggression to make you follow them to their cars. The further you get from the door, the lower the prices get. Is he loco?! I won't pay more than…8,9, at least 12. When a driver offered us a 12 dollar fare, my new friend readily accepted and we journeyed into the parking lot. As he grabbed her bags and carried them toward the car, I clutched the straps over my shoulders tight. I remembered Luisa's advice about not allowing anyone to help you with your things, especially men. I placed my backpack delicately in the trunk and slid into the backseat and inspected. Ripped interior and dirty, but one of the nicer cabs I had been in.
This day was going to be a challenge. As I sat in the backseat I went over my objectives:
Find a hostel with hot water and wifi
Book the trip to Machu Picchu
Call my family and let them know I have everything under control.
On a 7 day tour, I only planned to be in Cusco for one night. That's all the time I had if I wanted to see Machu Picchu, Arequipa, Ica, and Paracas. Meanwhile, the taxi cab driver as babbling about prices at Machu Picchu. He worked with a tour agency offering cheap packages. Only 169 for a package…I assumed soles, but it turned out to be dollars. We pulled up at his agency and a woman came out with a brochure. She practically climbed into the backseat with me to explain prices, as I insisted I just wanted to get to a hostel first and that $169 seemed expensive. "Everything in Machu Picchu is expensive! You cannot even find a hostel for less than $30 per night." This statement upset my new friend, and she began to call him a liar. She thought he was trying to cheat us out if money. Their yelling made my uncomfortable. I tried to shrink in the backseat and pretend I did not know what was going on. As the volume of the shouts increased, the acceleration of the car decreased and we found ourselves in the main plaza of Cuzco.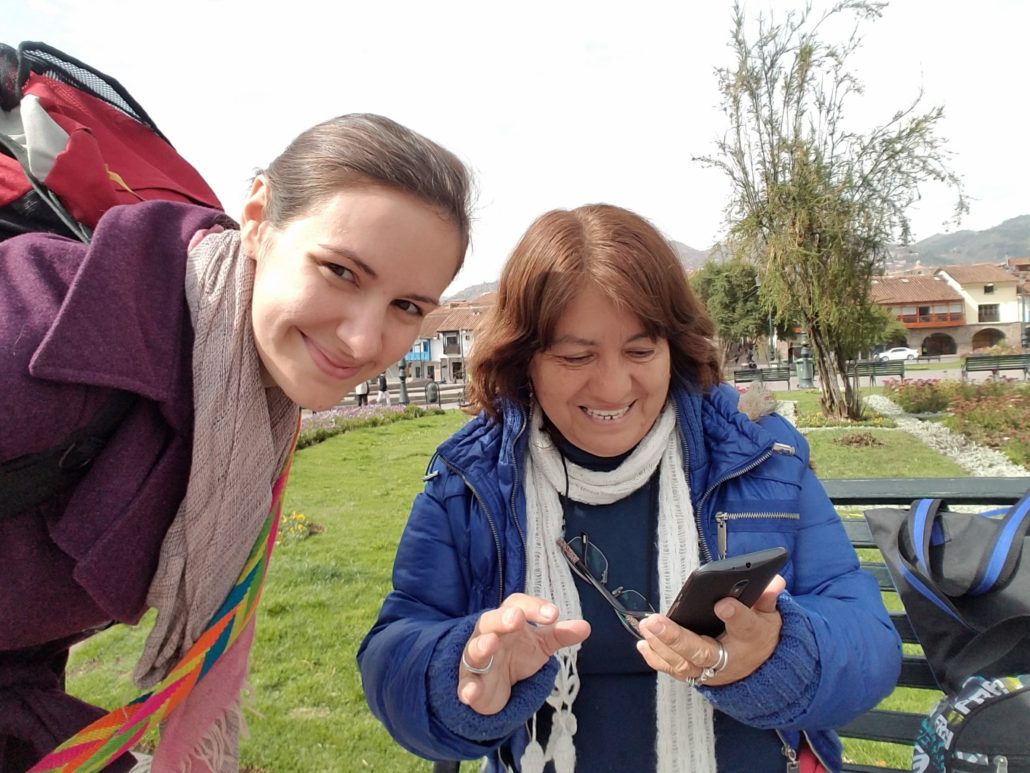 When Maria's friend arrived, he recommended a hostel: 30 sols for a private room, hot water, and wifi. Perfect. That's about $10. Her friend escorted me up the winding hills and into the alley where the hostel was tucked. My legs ached as I climbed step by step, the walkways no more than 2 feet wide. Cars chugged up the streets with ease, and I ran out of breath in 3 short minutes. I focused on each stride and tried to hide my struggle. Make it look as effortless as him. "Wow! Is this the attitude?" I asked.
"We aren't even high here in Cusco"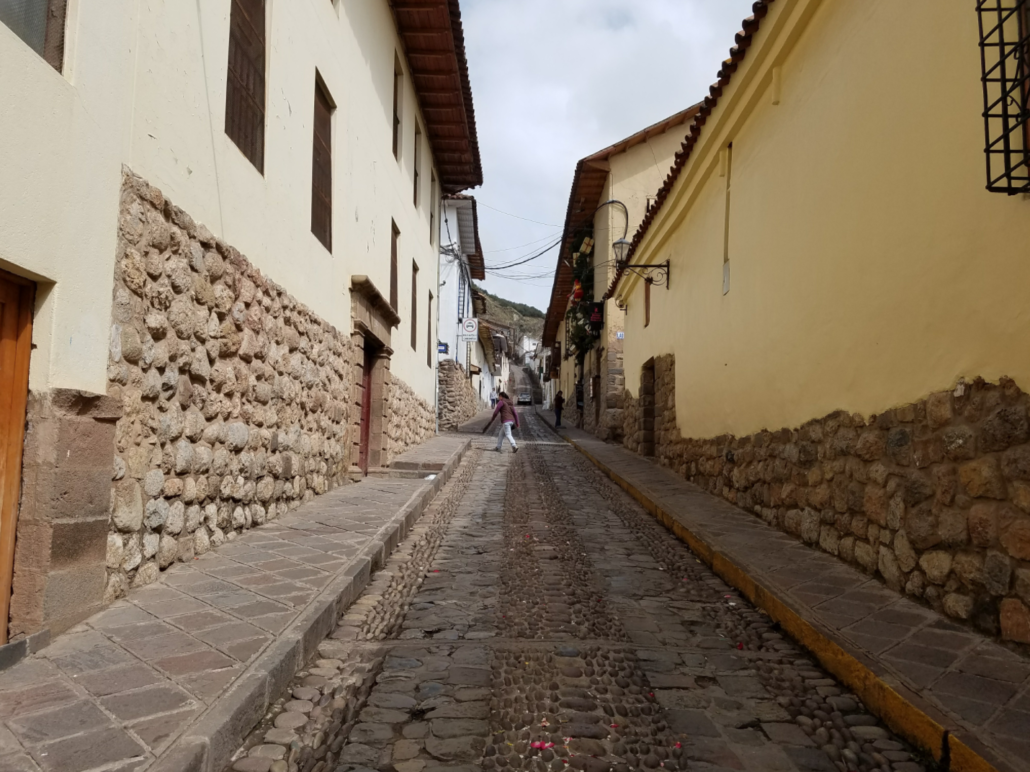 I was so relieved to see my bed. I texted my family and decided on an hour nap. My body was easily persuaded into a three-hour slumber.
Finding a travel agency was easy. I have found that in tourist towns, you can sit on a bench in the main square and at least 4 tour agencies per hour will find you.
*note* Never think that you can eat your lunch in peace on a park bench.
By noon I had talked to about 4 agencies, but I was getting hungry. I stopped into a local restaurant to order the menu. Supposedly the restaurant had wifi, and I could message my family from here, but that was not the case, so I relished in my grilled pork steak and watched the tourists passing by. A tall blonde girl approached the menu perched just outside the door. "Do you understand it?" She questioned. "I do."
I explained each item to her and invited her to sit down for lunch with me. She was from Belgium, and She was also looking for a package to Machu Picchu. After lunch we found ourselves plopped down in the seats of another agency discussing prices. I wanted to really see Machu Picchu, to feel it, and the guide recommended to stay in the pueblo a second night. Transportation, lodging for two nights, 3 meals, entrance to the park, and the ability to climb the mountain for $95 dollars. I was ready to pay! I handed the agent my passport and watched him print out gold. A ticket that read I would be on my way to Machu Picchu. Only one thing stood in my way; he informed me that they only accept cash.
"No problem," the Belgian girl reminded me, "there is an ATM a few blocks away," and she wanted to discuss more tours with him. But when I arrived at the ATM, I pressed my precious card in the slot only hear a barking rejection. "Could not complete transaction." The adjacent ATM gave me the same notice. I walked down the street to another bank, but to no avail. When the panic set in, I decided to go to Starbucks and call my bank. I waited on the line for 40 minutes. In desperate attempt to understand what was happening, I gave into the temptation of a dark cherry mocha. One, that I add, cost MORE than my hostel for the night. Stupid Americans. This was proof my card was working.
My bank confirmed that the card was good, and in fact, they never even received a request from the ATM. This was something "that just happens in foreign countries." The service agents scratch in her throat when she said this made me want to punch her.
"Then what do you suppose I do since I am stuck in South America with no access to money?" She recommended I cash advance my credit card, but could not verify if they would waive the fee. I'd have to wait on hold to find out, and time was running short.
I dashed down the street where they would be closing the bank soon and snuck in line just as the security guard locked the door for the evening. I waited patiently in line noting how there was no one in the account holder's teller lines, but the line for nonaccount holders stretched nearly to the door. We had only one teller. As I waited I pondered the outcomes. I did not know the words for "cash advance." I'd have to call the bank later to ask about the fees, but at least this would give me money. I examined the teller's hair and the way she pushed it behind her ear. She was cute and seemed kind. Her voice was soft. I was mesmerized by the way she counted each bill and delicately flipped it through her fingers. I counted the people in line ahead of me 12, 11, 10, 8, and then it was my turn.
"You have to call your bank and authorize it first." my heart dropped. All this waiting, first to talk to my bank and then in line here, and I still was not going to receive the cash I needed for my Machu Picchu trip. My shoulders slunked from the weight of her words. I could not even call my bank back since I did not have wifi, and the bank was already locked. There would be no leaving and coming back. "Just try!?" I was nearly in tears and begging. Her angel face nodded and took my card to a back room, but when she came back, her face bore nothing but shame.
"I'm sorry. I tried three times."
I sulked on my way back to Starbucks. There was nothing else to do. All banks were closed the ATMs my enemy. I think I went back to Starbucks because it was the only place where anything worked. I could chug my sugary drink, and be American, and nothing else mattered. But it did. The plush red chairs and Frank Sinatra Christmas music did nothing to ease my disappointment, especially when I discovered the wifi was now down at Starbucks. I was now cut off from everything. So I did what I do when I feel isolated. I made a friend.
I turned to the hippie next to me and asked: "do you have a hostel nearby with wifi?" I just did not know what else to do.
"I do. Actually. But I am about to walk to the bus station and buy a bus ticket. I have been in Cusco for three months, and I am leaving tomorrow for Quito."
Well, Shit. But then another idea occurred to me. If I couldn't get cash, at least I could go to the bus station and buy a bus ticket with a card. So I asked to accompany him. It was a little awkward, but certainly not the weirdest thing I'd done, and even it would not be the strangest request of a stranger on this trip. So I followed him down the streets of Cusco as he occasionally admitted: "I think it is this one [the street]..but I don't really know." We'd walked a couple miles, and he would occasionally point to an ATM along the way. I'd hit up at least 15, but at this point, it was more of a game: How many ATMs could reject me in one night? We were almost the el terminal when I stumbled upon BBVA, a bank I recognized from Colombia. The white letters illuminated the sidewalk in front of it. I put my card in, pressed 2 for Íngles, typed in my PIN, prayed to the ATM gods, and the heard. The money came from the mouth of that Colombian Masterpiece. It was 7:40, and the agency would close for the night at 8 pm. If I wanted to go to Machu Picchu, I would have to run. I sat down in their office around 1:30 pm, and six hours later, I finally had the money.
We ran back to the agency, my new friend and I, the resistance of the altitude long worn off. Handing over those bills was like handing over gold. Even though I'd found and ATM, my daily withdrawal limit was 400 soles, barely more than the price of the travel itinerary. I grasped my tickets in my hands.
Tomorrow, I would be on my way to Machu Picchu.
My new friend and I talked a little more casually on the way to the bus station. I was a little more relaxed now and wanted to know more about him. He was a freelance programmer that had been traveling for 3 years. He was from Spain. He spoke English–I assume better than I spoke Spanish, but I was proud of my language accomplishments and remained speaking Spanish. I wished he wasn't leaving. But we made it to the bus el terminal, a bustling, crowded place. But when I went to pay for my ticket, I was informed that they only received cash.
"Solamente recibes efectivo?" I asked
She barked back: "CLARO!"
But to me, it was not clear. Why wouldn't a bus company take a card?
"NO ES CLARO!" I shouted back. You see, in Colombia, claro means something like "of course" or "clearly." In Peru, I have come to learn that claro just means "yes." And by the cashier's terms, I'd probably overreacted a little.
ALL of the bus companies only received cash. So I forked over my precious bills in exchange for my passage to Arequipa.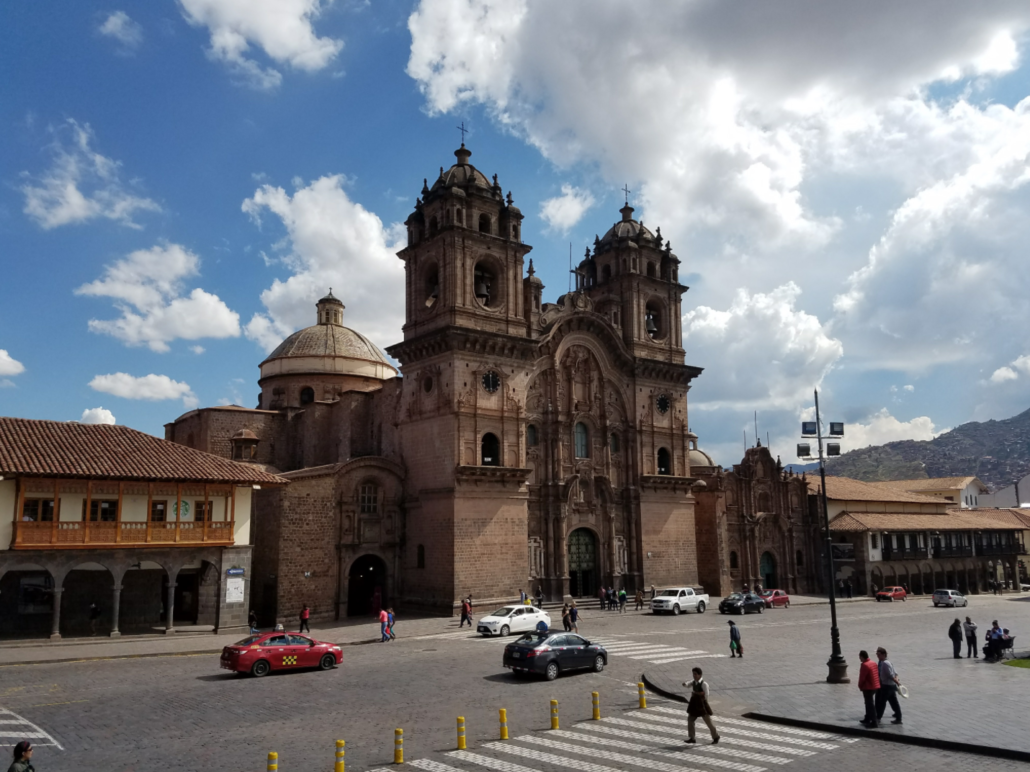 I had dinner with my new friend, and as you might expect the restaurant only took cash. It was tasty: "Chifa" which is Peruvian slang for Chinese food. On the way back the main plaza. We both laughed about how the server ran to the convenience store next door to purchase the beer we ordered. We parted ways in the plaza, and I started up that exhausting hill. I wanted his facebook or phone number, something to commit to the ideas that we were new friends, but I never asked. In my brain, I'd already accepted that travel friends were just that–temporary. We both accepted it and moved on from each other's lives the same night we met. We'd shared a meal, some laughs, and a few of my tears, but the relationship was already over.
I was exhausted and fell asleep quickly that night. Tomorrow I would load the bus for Machu Picchu, and 6:30 would come quickly.